IM Oliver Barbosa finished tie for first place at the Marshall Ches Club in New York just hours ago. Please visit the official tournament site
HERE
for details. The MCC is the toughest tournament he had joined thus far in his US campaign. Last year, GM Mark Paragua rules this very same tournament. Please check my last year post
HERE.
White: IM Oliver Barbosa (PHI)
Black: Jaan Ehlvest (USA)
Round 4
2nd Annual Marshall Chess Club New York
1. Nf3 Nf6 2. c4 g6 3. Nc3 Bg7 4. g3 0-0 5. Bg2 d5!
(still one of the most underrated opening variation, the Neo Gruenfeld, in my opinion.)
6. d4 cxd4 7. 0-0 c6 8. a4 a5 9. e4 Nfd7 10. Be3 Na6!?
(Where now, Black's light squared bishop?)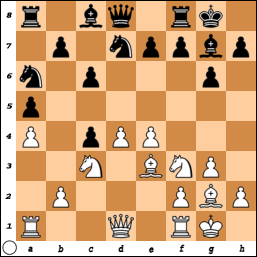 11. Qe2 Nb6 12. Ne5
(now no more pin for the Black's light squared bishop and getting rid of it for good by trading it for white's knight
(...Bxf3
) at proper moment).
12...Be6 13. Rad1!
(black keeps his extra pawn but white has completed his development quite harmoniously. )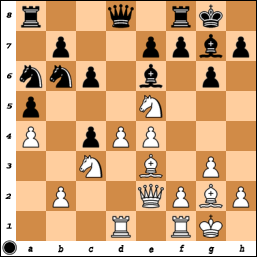 13...Nb6 14. f4
Ra6 15. Kh1 Qc8
(preparing to trade his light squared bishop)
16. Qf2
(followed by
d5
)
16...Bh3 17. Bxh3 Qxf3 18. d5 Bxe5 19. fxe5 Nd7 20. Bc5 Nxe5?!
(black ignore the trade between the bishop and knight on c5 as black still wants to keep his c4 pawn and stick to his earlier plan of posting his knight on d3.)
21. Bxe7 Nb3 22. Qe2 Re8 23. d6 Rb6 24. Rd2 Rb3 25. Nd1 Qe6 26. Ne3 Rxe7
(black wants to transposed the game into an early endgame battle.)
27. dxe7 Qxe7 28. Nxc4 Nxc4 29. Rxd3 Rxb2 30. Qg4 31 Ng5?
(the final blunder. Perhaps black is in time trouble here otherwise he could possibly have lose his temper.)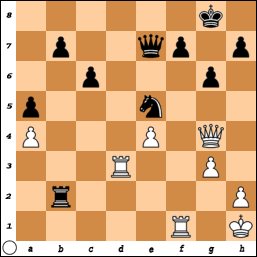 31. Qc8! Kg7 32. Rd8
Kh6 33. Re8 Qg5 34. Rf4 f5 35. Rxe5 1-0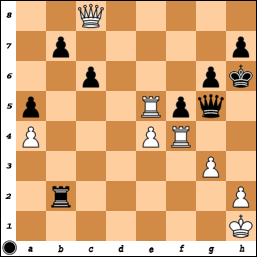 final position
Rating Nation Rd 1 Rd 2 Rd 3 Rd 4 Rd 5 Rd 6 Rd 7 Rd 8 Rd 9 Total Prize!
1 GM Zbyneil Hracek 12650689 2664 2659 2604 CZE W34 L33 W19 D9 W42 W10 W11 D5 D2 6½ $2,000
2 GM Alexander Stripunsky 12715435 2623 2631 2556 USA W53 D17 W44 W33 D5 D4 W22 D3 D1 6½ $2,000
3 GM Giorgi Kacheishvili 12746489 2622 2621 2613 GEO W26 D43 D9 W17 L30 W18 W12 D2 W5 6½ $2,000
4 IM Oliver A Barbosa 12774447 2509 2537 2425 PHI W38 W23 W42 W6 D22 D2 L5 D8 W15 6½ $2,000
5 IM Samuel Shankland 12852765 2481 2517 2446 USA W14 W20 D22 W10 D2 W30 W4 D1 L3 6½ $2,000
6 GM Jaan Ehlvest 12514557 2673 2653 2606 USA D24 W36 W13 L4 W33 D12 D9 W22 D8 6
7 GM Sergey Kudrin 11257585 2626 2610 2563 USA D36 W32 D15 W20 L11 W14 H--- D9 W18 6
8 GM Jesse Kraai 12442362 2531 2539 2488 USA W27 D15 W43 L22 W21 D9 W17 D4 D6 6
9 IM Lev Milman
GM Norm! 21012681 2472 2507 2462 USA W39 D19 D3 D1 W43 D8 D6 D7 W16 6
10 IM Leonid Gerzhoy 13291380 2402 2440 2420 CAN W40 W12 D33 L5 W49 L1 W13 D16 W17 6
11 IM Jacek Stopa 13485890 2532 2528 2471 POL W37 D44 D17 W24 W7 D22 L1 L15 W28 5½
12 IM Dean J Ippolito 12445752 2521 2519 2443 USA W29 L10 W37 D15 W44 D6 L3 W19 D14 5½
13 IM Irina Krush 12543137 2474 2463 2452 USA W45 D21 L6 L30 W28 W34 L10 W38 W23 5½
14 Mackenzie Molner 12662506 2415 2421 2384 USA L5 D39 W54 D19 W29 L7 W37 W30 D12 5½
15 Igor Sorkin 12684250 2392 2419 2345 ISR W47 D8 D7 D12 H--- H--- W33 W11 L4 5½
16 GM Leonid G Yudasin 12542077 2638 2587 2550 ISR W35 L42 L24 W53 D34 W20 W30 D10 L9 5
17 IM Justin Sarkar 12561884 2427 2438 2410 USA W28 D2 D11 L3 W24 W19 L8 W27 L10 5
18 IM Jay Bonin 10098327 2408 2402 2369 USA D32 D24 D27 D29 W37 L3 W39 W21 L7 5
19 Siddharth Ravichandran 14138151 2356 2367 2303 IND W41 D9 L1 D14 W27 L17 W36 L12 W30 5
20 Adam S Maltese 12578045 2356 2366 2222 USA W51 L5 W38 L7 W52 L16 H--- H--- W31 5
21 Kassa Korley 12832679 2206 2237 2120 USA W52 D13 H--- H--- L8 D43 W44 L18 W34 5
22 IM Marc T Arnold 12770589 2433 2457 2408 USA W31 W49 D5 W8 D4 D11 L2 L6 U--- 4½
23 FM Daniel A Yeager 12876648 2378 2361 2372 USA W48 L4 L30 L37 W31 W29 D28 W39 L13 4½
24 FM Darwin Yang 12945617 2318 2329 2231 USA D6 D18 W16 L11 L17 L28 D31 W45 W38 4½
25 Valentin Goikhman 14225550 2309 2296 2209 ISR L49 D31 L32 W51 L36 D38 W47 D37 W39 4½
26 IM Raymond Kaufman 20058328 2299 2304 2276 USA L3 D28 D31 D38 W54 L33 D42 W36 D27 4½
27 FM Ilye Figler 12713319 2276 2289 2319 USA L8 W47 D18 D52 L19 W35 W43 L17 D26 4½
28 Jeffrey Haskel 12744467 2216 2241 2131 USA L17 D26 D36 W35 L13 W24 D23 W42 L11 4½
29 Adithya Balasubramanian 12932453 2259 2249 2212 IND L12 D52 W40 D18 L14 L23 L41 B--- W50 4
30 FM Ryan Harper 12922807 2223 2249 2206 TRI L42 W35 W23 W13 W3 L5 L16 L14 L19 4
31 Allen J Weiss 12706217 2210 2214 USA L22 D25 D26 D36 L23 W48 D24 W41 L20 4
32 Andrew C Wang 12846588 2111 2124 USA D18 L7 W25 L44 L39 L47 B--- W35 D36 4
33 Marc R Esserman 20008479 2441 2446 2391 USA W54 W1 D10 L2 L6 W26 L15 U--- U--- 3½
34 FM Jon Jacobs 10098068 2314 2304 2307 USA L1 W45 L49 W48 D16 L13 L38 W46 L21 3½
35 WIM Iryna Zenyuk 12846035 2311 2275 2305 USA L16 L30 W46 L28 W47 L27 D40 L32 B--- 3½
36 FM Alec Getz 12805454 2295 2289 2229 USA D7 L6 D28 D31 W25 D44 L19 L26 D32 3½
37 Parker B Zhao 12787319 2284 2285 2301 USA L11 W50 L12 W23 L18 W40 L14 D25 U--- 3½
38 Alexander Barnett 12657899 2268 2264 2239 USA L4 W46 L20 D26 H--- D25 W34 L13 L24 3½
39 IM Renato C Naranja 13024036 2245 2244 2295 PHI L9 D14 W41 L43 W32 W42 L18 L23 L25 3½
40 Aleksandr A Ostrovskiy 12881112 2080 2082 2061 USA L10 H--- L29 D45 W51 L37 D35 H--- D41 3½
41 Nelson M Farber 12813964 2012 2024 2001 USA L19 D53 L39 H--- H--- D46 W29 L31 D40 3½
42 Grigory Braylovskiy 12588419 2437 2419 2358 USA W30 W16 L4 D49 L1 L39 D26 L28 U--- 3
43 FM Elliott J Liu 12661521 2405 2391 2353 USA W46 D3 L8 W39 L9 D21 L27 U--- U--- 3
44 FM Jake Kleiman 12683681 2383 2370 2326 USA W50 D11 L2 W32 L12 D36 L21 U--- U--- 3
45 Vitaly Zaderman 12570422 2249 2220 2214 USA L13 L34 D47 D40 D48 H--- H--- L24 D51 3
46 Leonard B Chipkin 10119031 2099 2083 2059 USA L43 L38 L35 D55 D50 D41 W51 L34 D48 3
47 Dale M Hammer 12503139 2064 2065 2215 USA L15 L27 D45 H--- L35 W32 L25 D50 H--- 3
48 Edward A Frumkin 10136580 2037 2036 2034 USA L23 H--- D53 L34 D45 L31 D50 D51 D46 3
49 IM Alex Lenderman 12787646 2630 2599 2434 USA W25 L22 W34 D42 L10 U--- U--- U--- U--- 2½
50 Andrew Hellenschmidt 12593461 2060 2042 2024 USA L44 L37 D55 L54 D46 D51 D48 D47 L29 2½
51 Bora Yagiz 12661990 1993 1983 1910 USA L20 B--- L52 L25 L40 D50 L46 D48 D45 2½
52 IM Daniel Fernandez 20058682 2420 2394 2369 USA L21 D29 W51 D27 L20 U--- U--- U--- U--- 2
53 FM Gregory Markzon 12057550 2289 2276 2203 USA L2 D41 D48 L16 B--- U--- U--- U--- U--- 2
54 Andras A Erdei 12532583 2228 2220 2159 HUN L33 H--- L14 W50 L26 U--- U--- U--- U--- 1½
55 Anatoly Ostrovskiy 12890679 1868 1877 1969 USA U--- U--- D50 D46 U--- U--- U--- U--- U---